Filing cabinets and stacks of paper are history in most of today's businesses. Instead, almost everything we do from a business perspective is via mobiles, computers and most often, via the internet with business broadband. We store and manage data this way, access information and it even underpins how we communicate with people both internally and with clients or customers.
Co-workers thousands of miles apart can share information instantaneously and we can connect with customers to respond to their queries in real time. This all happens via the internet, making business communication easier and quicker than ever before. That's why making sure we have fast, reliable and efficient access to the internet is key to business success.
And yet time and time again, we see this neglected. People suffer on with poor connectivity for years, accepting spontaneous crashes and extensive loading pages even though it slows them down and reduces productivity. Why? Because the jargon around business broadband is confusing, making it hard to find the right option for you. Plus, changing your business broadband can seem more hassle than it's worth.
But never fear. We know it can be tricky. That's why we've made it simple. There's plenty of options out there and they started with DSL, which were digital subscriber lines for high-speed access over a phone line. This enabled speeds to increase and the internet to perform better. Then speeds increased again with fibre-optic cable lines. But the most popular business broadband solutions are FTTP, FTTC and Ethernet. Still stuck? We've got you …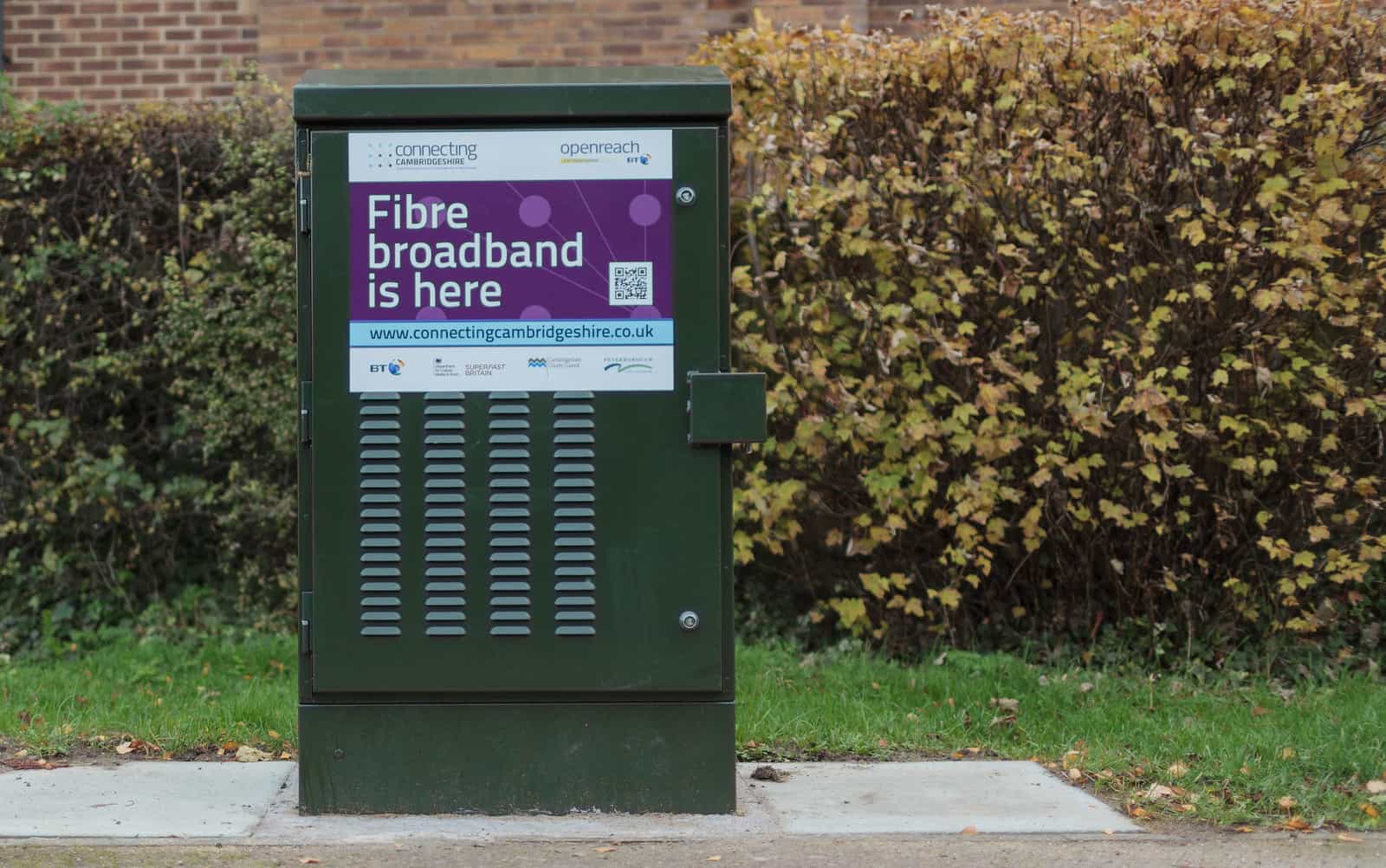 1. FTTC – Fibre to the Cabinet
FTTC (Fibre to the Cabinet) Is a mix of traditional copper wire and fibre optic cable. The fibre optic cable runs from an exchange or distribution point to roadside cabinets that you probably walk past every day. Once the fibre cable reaches the cabinet, it meets the copper wire that connects to your home or business.
The reason so many homes and businesses opt for FTTC is purely economical. To install the fibre optic cable directly to your building, a lot of digging and infrastructure implementation might be needed. The copper wires offer a cheap way to get fast internet into your premises at a lower cost.
FTTC also has the advantage of DLM (Dynamic Line Management). DLM is an automated system that helps monitor and manage quality and connection speed of your business broadband.
Pro's Of FTTC
Faster Speeds
Lets be honest, nowadays it's all about the speed. You can roughly get speeds of 80 to 100 Mbps (although distance from the cabinet can have huge impact)
No New Wiring Required
So you don't have to spend big at the outset
More Areas Coming Online Every Week
So the likelihood it's available to you is high.
Con's of FTTC
Service Level Agreements & Expected Fix Time
This can be lengthy and are not guaranteed, meaning you could be down for a while if something goes wrong
Limited Availability
You could find it hard to get a new install if it's been in your area since day dot.
A Compatible Router May Be Required
This is usually supplied by the internet service provider, but double check first.
2. FTTP – Fibre to the Premises
FTTP is Fibre to the Premises, and that is precisely what it does. Instead of taking the cheaper copper substitute from the street cabinet to your office, FTTP uses optical fibre all the way. The result is a significantly faster connection and reliability compared to its close cousin. While the costs can be prohibitive for homeowners, it can make good business sense for many work environments.
With more businesses relying on cloud infrastructure for critical business apps and VoIP, the demand for ultra-reliable FTTP is on the increase as a business broadband option. Fiber-optic Internet is many times faster than even the highest-speed copper Internet connections. Furthermore, you shouldn't experience any issues during peak demand periods like you can with other installation options.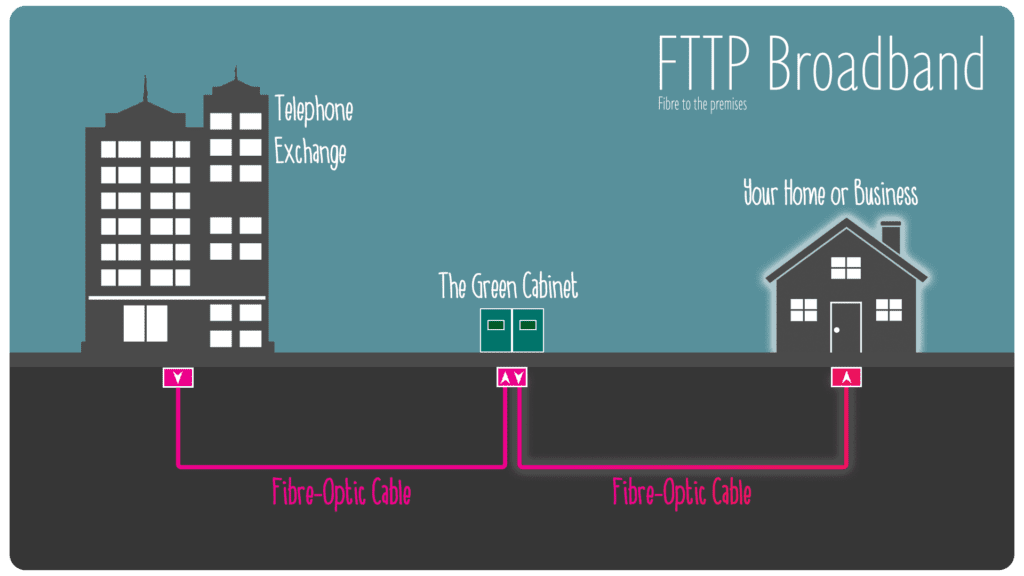 Pro's Of FTTP
Superior Bandwidth
FTTP boasts the highest internet transfer speed among all internet service options.
Reliable Source of Web Connection
When it comes to signal transmissions, FTTP uses light technology, not current so it's much more stable than FTTC.
Secure Transmission
Fibre is one of the best at providing a secure transmission platform. There's currently no way to interrupt the flow of data.
Con's of FTTP
The Cost of Service
It will almost always require a site survey and construction costs to get it installed.
No guaranteed SLA's
If your service goes down, it could take a while to be resolved. All this time, you will not be able to work as normal.
Contended Service
You share the fibre with other businesses and homes in the area meaning it can kill your speeds during peak times.
3. Ethernet – Dedicated Leased Line
Ethernet simply refers to the most common type of Local Area Network (LAN) used today. A LAN—in contrast to a WAN (Wide Area Network), which spans a larger geographical area—is a connected network of computers in a small area, like your office, college campus, or even home. You might even be connected to one as you read this.
What Ethernet is not, though, is wireless. In a world where Wi-Fi seems to rule our connected lives, you might be wondering: Is there even still room for that rectangular Ethernet port on your laptop? From serious business people to serious gamers, that answer is "yes, there definitely is." And here's why.
With wired Ethernet, interference isn't an issue. And because everything from your neighbour's Wi-Fi signals to your microwave and your Bluetooth headset can cause Wi-Fi interference, that's a potentially huge benefit. 
"If I was a small business, I would choose Ethernet First Mile as it's got good speeds, it's reliable and stable and cheaper than other Ethernet options."
Elliot Leigh, VoIP Engineer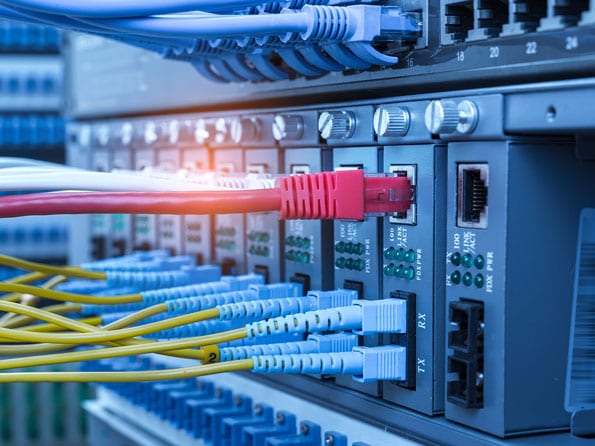 Without interference, your Internet is less likely to experience slowdowns, disconnections, or intermittent connection—big deals when you're transferring massive, data-hungry media files to a client.
Similarly, your own walls won't cause penetration issues for Ethernet, and because each device is hardwired, you don't have to split your bandwidth between devices.  For the more business-oriented, the control and security offered by Ethernet is hard to beat.
With a physical connection, you maintain control of who's connected to your local network at any given time. This not only frees up data for your users, it helps prevent unwanted (not to mention dangerous and costly) security breaches.
Ethernet is popular because it strikes a good balance between speed, cost and ease of installation. These benefits, combined with wide acceptance in the computer marketplace and the ability to support virtually all popular network protocols, make Ethernet an ideal networking technology for most computer users today.
Pro's Of Ethernet
Dedicated Speeds
These can be guaranteed and are less likely to be affected by walls, other devices, and other forms of interference.
Stable & Controlled Network
It's your own dedicated line, you choose who connects and who can't, meaning other users cannot affect it even at peak times.
Excellent SLA's
You have guaranteed SLA work times, with a commitment to fixing any problems within the day rather than weeks. And if they don't deliver, you get compensation.
Con's of Ethernet
Expensive & Timely Install
It can be expensive to install and because of the wiring required, this can take a long time, usually a few months rather than weeks.
Upgrades Aren't Free
Unlike wireless upgrades that can be provisioned remotely, upgrades for ethernet will usually mean a change in cable which can be expensive.
Monthly Cost
The monthly cost for a leased ethernet line is a lot more than FTTC or FTTP. You must weigh up whether the benefits that Ethernet offers in comparison is worth it.
So Which Should You Choose?
Any business with multiple users and a need for a reliable connection is likely to look to fibre to the premises for their internet connection, especially if you want to utilise VoIP, cloud-based storage or cloud-based SaaS systems. Reliability aside, the main difference for buyers is the speed and cost associated with installation. 
FTTC is the cheapest option if you're focusing on your bottom line and you need a quick install, but the SLA's leave you vulnerable if anything goes wrong. Can you really afford to be down for days, maybe even weeks, for the sake of a quick fix?
If you are looking leverage the power of the internet more, VoIP, cloud-based systems or are growing your team; it could be time to consider an upgrade to Ethernet. This offers you guarenteed fix times, even quicker speeds and you won't hve to share your bandwidth meaning a more reliable service.
For advice on the right connection for your needs in your area, get in touch with our experts who will analyse your location and provide you with the best solution for your needs. While doing your research and requesting quotes, make sure to look out for hidden costs, implementation timescales and reviews on their service. Implementation costs can vary most when it comes to the physical implementation.
Understanding from each provider who is digging the trenches and what is included in your connection setup is essential to making the right selection.
Need business broadband advice?
We know that finding the right broadband for you business can be a bit of a mind-boggle. And that's ok. Technology companies don't make it very easy to distinguish between the different options and you can be left just sticking to what you know. Or worse, you could end up with a broadband service that doesn't meet your needs.
We offer free consultations that will allow us to help you determines which option is right for you, not just now, but for in the future too. Why not get in touch and find out what's best for you?