When it comes to modern day security, cyber threat is running the show. Yet while everyone has been busy protecting themselves online, it seems people have forgotten the importance of physical and environmental security.
It is pretty naive to assume that one security measure without the other will suffice – but it wont. After-all, online security measures are all worthless if a criminal can walk into your building & steal a drive, hardware or data, and vice-versa.
Enter Meraki MV32.
The MV family already offers impossibly simple to deploy, configure, and manage security cameras that give real business insight in a feature-rich, out of the box format. And when we say features, we mean it! Just look at all of this …
Centralised Cloud Management
HD Recording
Edge Storage up to 256GB
Optimised Retention
Advanced Analytics
Motion Search & Heatmaps
Object Detection
Default Video Encryption
Granular Access Controls
Free Automatic Firmware Updates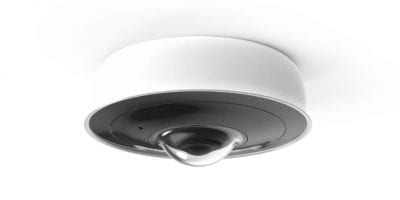 The Best Yet: Meraki MV32
But they've just gone one step further with their new addition, the Meraki MV32. This new smart camera adds 360 degree viewing via a wide overall viewing angle to provide valuable, big picture insights into what is happening in your organisation.
it features in-browser de-warp and digital pan, tilt, and zoom on live and historical footage so you can monitor activity in a more sophisticated way than ever before! The fisheye MV32 even looks good, making the most of it's ultra compact design to blend into any space, making it the perfect fit for a variety of deployments.
As with the rest of the MV line-up, the MV32 features an innovative architecture that places high-endurance storage locally on the camera, removing the Network Video Recorder (NVR) and Video Management System (VMS) from the equation. Not only does this drastically simplify both installation and scaling, it also eliminates a major network security vulnerability in IT infrastructure.
Capture Business Activity with MV32!
The Meraki MV32 is the perfect business companion and is always watching – no matter what. Want to try it for yourself? Think it's too expensive? Think again. We can arrange free trials of the MV32 via our strategic partner Cisco Meraki. We can also offer interest free, affordable finance options to help manage the costs.