Following on from us becoming the official communications partner for Birmingham City football club, we have recently just completed a whole new refresh of the clubs infrastructure!
Before PCS, BCFC had an infrastructure which relied on an old and patchy cabling system. It was slow, unreliable and incapable of managing the day to day operations that the club needed to thrive. Slow WI-FI affected both fans on match-days and clients attending conferences as well as employees trying to get on with daily jobs. It became obvious it required improvement.
We wanted to ensure that following our input the club would be left with a solid, reliable infrastructure that gave them better commercial connectivity to improve overall customer experience.
We wanted anyone connected to the club: club shop, training ground, stadium and commercial departments to reap the benefits the project would offer.
Updating the Stadium Infrastructure
The old infrastructure was old and mainly running across copper lines which resulted in a slow, unreliable network. BCFC wanted to replace what they had with a brand-new cabling system. This involved new cabinets in place at the stadium as well as brand new Wi-Fi coverage across the ground.
Our engineers at PCS replaced the current infrastructure with the latest fibre-optics and brand new switches as well as 99% of access points being installed across the ground and external areas of the stadium. ­­A Meraki fibre backbone has also been installed to all new cabinets including diverse resilient links.
Adding value to the Commercial Department
BCFC's commercial department is responsible for events, advertising, sponsorship and club partners. Before the project, the department had issues with the network affecting their ability to work as effectively as well as affecting clients and customers who were visiting the club.
In order to improve this, PCS undertook a complete rewiring and installed new high-density WiFi outlets in the suites, bars and boxes. This means the WiFi is faster and far more reliable than before. It also allows those working in the department to complete work without having to worry about slow connection to the internet with more faith in the quality of what they were offering to their clients.
One element of the commercial department that found great benefits following the new infrastructure was the Tappit App. This app enables season ticket holders who are visiting the stadium to enter and make purchases at kiosks and the Blues store all with one card.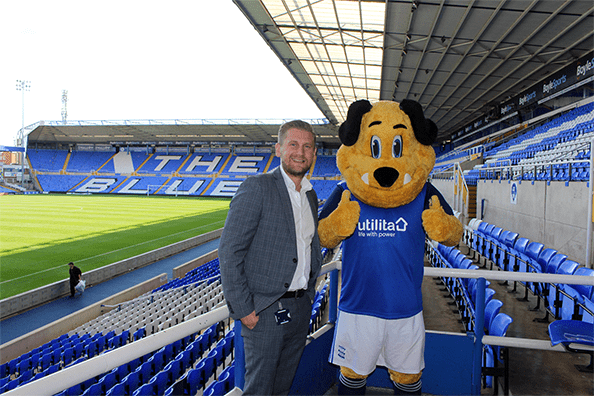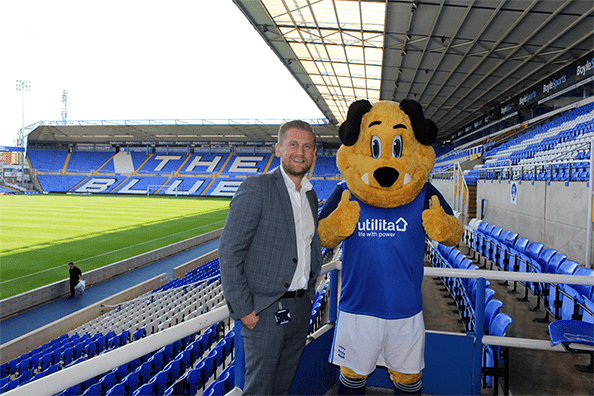 Before the project they faced issues with connection that meant fans using the app were not able to make purchases as they couldn't connect to the WiFi. However, following the new infrastructure installation, this is now no longer an issue and the installation was so seamless, we've sealed a technology partnership with Tappit to deliver this solution to other stadiums.
"We've never had such a reliable network covering every terminal" – James. Tappit Project Manager.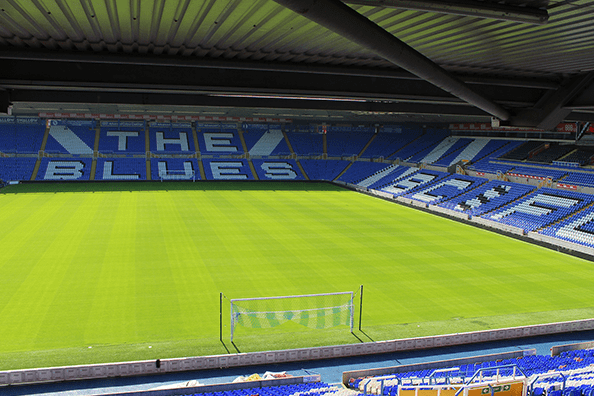 IMplementation at the Training Ground
Having a secure reliable network around the training ground has provided excellent benefits to both the players and the employees.Issues before with WiFi have meant that player educational sessions have often not been able to run due to not having adequate internet.
It also affected those working across the department in areas such as recruitment, analysis and education. All of which are facing issues getting on with daily tasks and ultimately, the delivery of the program for players.
PCS completely re-wired the training ground as well as installing new access points and WiFi. A more reliable connection now means digital sessions can now be run easily without having to worry about an unreliable network.
Live feedback can also now be offered to players on the pitch during training sessions as the connection strength is that strong, it reaches out across around a pitch and a half – something that was never feasible with the old solution they had in place.
Head of education and player care Mark Sinclair said "Now we have that consistency and faith so that when we do need to provide a digital or internet session, we will be able to put it on…when the guys have been on site, I can only say that the have been an absolute privilege to work with"
Addressing the BCFC Club SHop
Before the refresh from PCS, the BCFC club shop had no access to any WiFi. This had a negative affect for both staff and supporters entering the store. Staff were working with a network that caused frustration when trying to get on with basic tasks. Whether this was serving customers or contacting other colleagues, lack of sufficient WiFi meant that these easy tasks became slower and more difficult.
However, after a brand-new infrastructure, which provided them with a fully, high density WiFi, working in the store became a lot easier. Staff were more efficient than ever before, able to get tasks done that used to take hours, in a matter of minutes.
One main issue with the club shop was problems involving the tills. They were slow, unreliable and caused difficulties when customers came to purchase items.
The new infrastructure involved the club shop being completed for till and retail POS using Wi-Fi. And proof was in the pudding when it came to the day the new kit launched – one of the busiest days of the year for blues. Superstore retail manager Wendy said "Not one till failed… even the one in the kiosk. We have never had that!".
What Next for Bcfc?
The next step involves transitioning to the cloud. This is so BCFC have a future-proof solution that will allow their business to have better flexibility in terms of where their offices are situated and having easy access to their work. A part of this is the security element. Meraki can be issued to have better control over who and when people can access the network.
Moving to cloud is massive project and will probably take around two years to fully mature. A lot of time has been spent in designing the network to suit the needs of BCFC. And these needs continually fluctuate whether that is on a normal day, match day or if they are holding an event.
The great news is, this infrastructure has given them the platform to be able to explore more options that can help them to drive their business forward, without barriers.
Don't DO It Alone - We Can Help!
If you are thinking about implementing a similar type of project such as re-designing  your network, then please get in touch with one of our experts – we can help you.