Way back in October, Pure Cloud employees proudly attended the coveted Pink Ball at the Hilton Metropole Hotel in Birmingham. Glitzy dresses, dapper suits and generous hearts galore gathered for a jam-packed charity night. It makes this year's Pink Ball the biggest yet with over 600 guests attending to help the Lilian Goodfellow Group of Friends (LGGF) hit their 20-year fundraising target of £500,000 pounds!
A real Worthy Cause
20 years ago, Lilian Goodfellow spent the final days of her life being cared for by the Marie Curie Hospice in Solihull. This was after a hard-fought battle with cancer and in January 1999, she tragically passed away. The LGGF was formed in her memory by daughter Julie Hayward and a group of her friends: Debra Wyatt, Jo Hayward and Tina Jacobs.
Julie wanted to thank Marie Curie for their support while her mother was ill. She wanted to give back to the facility that supports so many families on a daily basis. They set up and ran their first event, just 2 days after Lilian passed away. Flash forward to 2019 and they've just hosted their 19th successful Pink Ball!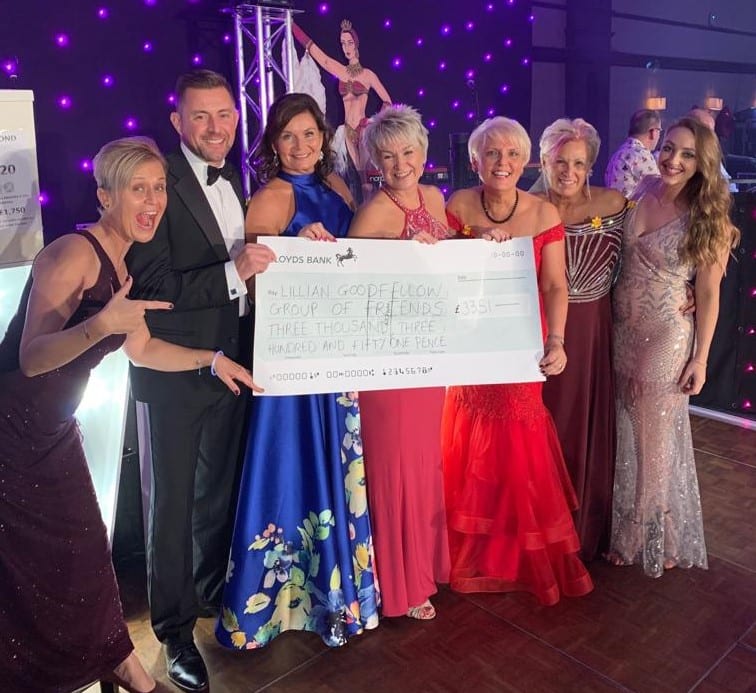 mission not so impossible
As part of their momentous birthday, the awesome-foursome of LGGF set themselves a huge target. They wanted to see out their 20th year in style. So they set their sights on achieving £500,000 worth of donations in their 20 years of operation. Off they went, launching themselves into their never-ending charity efforts.
From afternoon teas, bake sales and bike rides to car washes and ladies day at the races – these ladies have done it all. Local businesses, friends and family have all chipped in over the years too. The group were at an incredible total of £470,000 before the Pink Ball on October 12th 2019. This meant they needed to raise around £30,000 from the Pink Ball to hit the magical £500,000. A tall order for any charitable organisation, but not for the LGGF.
With an Elvis Presley tribute act kicking the night off, casino-based entertainment and their Las Vegas theme, the night promised to be successful from the very beginning. The auction also raised profits with bidding wars between attendees bumping up the price of kindly donated prizes. There were also red envelopes placed on each seat at the venue that held raffle tickets and casino chips in exchange for £20. So halfway through the night, they were already a whisker away from hitting their overall target.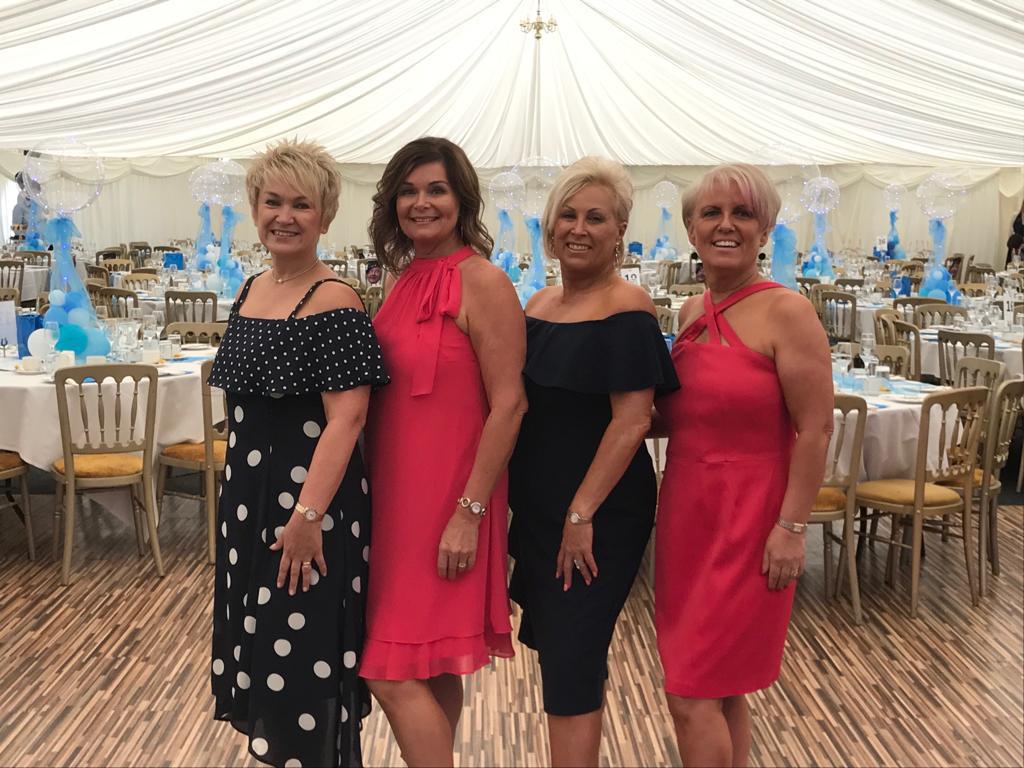 How We Helped
Our charity of choice, Help Us Help Others (HUHO), have been supporting LGGF in 2019. Back in February, they approached us to see if we wanted to help these 4 women. Without hesitation, we agreed.
Martin Lake, PCS Co-Owner and HUHO trustee, already knew of the group through his sister-in-law, Julie Orme. She received endless support from LGGF when she went through her breast cancer ordeal 5 years ago.
He said, "I think everybody is touched by cancer at some point in their lives. Anyone that does something to support and raise awareness of fighting that cause is just amazing."
"Anything that we could do to help and assist in them reaching this incredible goal – we would."
The thrill seekers at PCS suggested we complete a tandem skydive to show our support. We recruited 9 members of PCS staff brave enough to agree to a 13,000ft drop from a plane and began fundraising!
Getting Closer
Donations from the friends, family (and perhaps enemies) of the staff involved, meant we managed to raise a huge £3,351 on behalf of HUHO, towards the LGGF cause. This was presented to the remarkable group of friends at the Pink Ball and helped them inch even closer to the £500k mark.
And they only had to wait a few hours until the infamous DJ, Mark Tollis announced the team had reached the magic number. The gang piled on to the dance floor in utter disbelief, met with roaring applause from everyone in the room.
Julie Hayward, Chairperson of LGGF said, "I cannot thank Pure Cloud and HUHO enough for their support this year. The Pink Ball was the best we have ever held. Everyone in the room was 100% behind us trying to help us get to our £500k target. And remarkably we got there! This made our 20 years of fundraising so much more special and momentous!"
500k & counting!
The final total for the night including ticket sales totaled to a huge £31,500. This took the award-winning LGGF group's fundraising total sailing past the £500,000 mark. Julie Hayward said, "The atmosphere was electric and it was a very emotional night for us 4 in LGGF."
The milestone means that LGGF have been one of the biggest financial supporters of the Marie Curie Hospice in Solihull over the years. It costs £9000 per day to fund the Hospice which is run solely on donations. They receive no government funding for support. Jo Hayward, LGGF member said, "I think it's fair to say that Marie Curie now consider the funds we raise each year to be a steady source of income. Our support helps to keep the hospice running on a day to day basis."
They even received a special presentation from Marie Curie on the night. The hospice thanked them personally for their efforts over the last 20 years in allowing the hospice to continue offering the support they do.
Julie Hayward added, "Words cannot say how grateful we are to each and everyone of you who have supported us to get to the £500k. I believe that with further donations to come in over the next few months, we will surpass the £500k so watch this space!"
Well done ladies! We are so proud to have been able to support you alongside HUHO to reach your target! Now there's just the small matter of jumping out of a plane left to negotiate …
Get INvolved
Our charity of choice, HUHO are always looking for worthy causes. They are looking for 2 causes to support at the annual Purslow Memorial Tournament in 2020. Can you suggest an independent cause that may need their help?