VOICE SERVICES
We think our telephony solutions are the best on the market. They combine cost-effective communications with feature rich ways to connect, so no matter where you are, you can do business more efficiently.
Hosted Voice
Pure Cloud Solutions hosted voice service provides a feature-rich user experience plus significant additional benefits.
Our hosted voice service is not limited to any geographical location and as such, they can be deployed globally.  We can provide numbers from most countries throughout the world and deliver them to any device anywhere.
Our hosted voice service can be deployed on any operating system including PC, MAC, Apple & Android operating systems. As the service is provided via secure datacentres, disaster recovery & business continuity are provided as standard.
For a full feature list, click here.
Wholesale Line Rental – WLR3
Pure Cloud Solutions provide bespoke call rate packages with extremely competitive rates for all destinations whether UK, Europe or Internationally.
We also provide analogue lines, ISDN2 & ISDN30 circuits with associated DDI numbers. However, BT have recently announced that as of 2020 there will be a cease in new supply for PSTN and ISDN services with a complete cease by 2025. This is to replace old fashioned technologies, associated maintenance costs and limitations.
If you currently have a traditional PSTN/ISDN based system, there's no better time to get in touch and see how Pure Cloud Solutions can support you in the transition to an upgraded telephony system giving your business access to new technologies, product reliability and cost savings.
Inbound Non-Geographic Services
As a network operator, we can supply you with the very latest inbound telephone services, providing inbound, non-geographic numbers.
The number ranges we can provide are 03, 08, virtualised geographic numbers including 01 & 02.  We can even deliver virtualised 07 mobile numbers.  All these number ranges can also have call recording added if required.
IVR & Auto Attendant
IVR services can be tailored to meet your specific needs and you will have the ability to adjust your services using our UCA web portal. Create multi-level menu options easily, with each call leg having all call plan options and network features available.
Personalised audio can be recorded via either a dial-in service, using the UCA application, or uploaded straight from a PC.
Call Queuing & Call Back
Call Queuing allows multiple calls to be queued simultaneously & delivered globally to any number of users.  Our service offers average time to answer and position in queue.
Our call back (queue buster) option allows callers to press a button while in a queue and request a call back, once this option has been chosen the caller can replace their handset but their position in the queue is kept and once the call hits position number one an automated call is placed to the person who originally placed the call.
Fax 2 Email
Looking for ways to save money on office supplies? Want to be more environmentally friendly?
Our fax2email and email2fax is a simple application that will make your dusty, old fax machine a thing of the past.
By converting received fax documents to PDF format and delivering them straight to your inbox, this application will save you time and money. No line rental costs. No paper costs. No toner costs.
Benefit from:
Feature-rich portals
Secure Platform
Work Anywhere
999% uptime
Call Recording
Free system & software upgrades
Scalability
Business Mobile Services
When you choose PCS as your mobile provider, you get a service that is tailored to your needs and usage. This is because we complete a full audit on your business mobiles and work with you to understand what's right for your business & users.
As a truly independent network provider, we make sure that you are on the right network with the best tariffs for your business. Our mobile experts understand that clarity is important and so throughout your time with PCS, we will remain open, honest and offer impartial advice.
We will provide you with a cost-effective, feature rich solution by providing bespoke tariffs on EE, O2, Vodafone and our own UCAnywhere network (UCAnywhere is delivered via the EE network).
We offer (but not limited to): –
All-inclusive single user tariffs with international roaming included
Sharer tariffs
No line rental tariffs
Your existing costs will be thoroughly analysed by Tariffcom, an independent telephony analysis provider, and a selection of tariffs will be recommended for your business.
We can also supply you with a complete range of handsets and tablets and can include the cost of these devices in with your monthly bill.
With our unique Fixed to Mobile Convergence (FMC) solution UCAnywhere we can deliver a true mobile based telephone system without the need for traditional desk phones, click here to read more. (link to FMC page).
Benefit from:
Agreed SLA's
Neutral Advice
Up to 20% saving on your bills
Full bill analysis
Dedicated support
Mobile Device Management
Collaboration
The way we work is changing. Stay connected, never miss a call, have greater flexibility and be more productive.  Thanks to cloud-based communications and IT solutions, you now have the freedom to create a better work/life balance and to create a smarter more efficient business.
Give yourself the freedom to work from the park during the summertime or from a cosy corner of your favourite coffee shop, with UCA Hosted Voice Services from Pure Cloud Solutions.
Presence
Instantly see the location of your colleagues whether using a PC, desk phone or mobile device.  Set individual call forwarding rules based on presence state
Instant Messaging
Communicate via secure instant messaging to colleagues across your business whether in the same location or using our mobile application globally.  Chat individually or to groups and easily set up video conference meetings via chat as well.
Video Conferencing
Our solution is fully integrated with Zoom, start meetings and invite participants easily.  Fully record video conferences and share with participants for reference.
Screen / File Sharing
Share any document and make dynamic changes while within the conference, record the changes and share with participants easily.
Dynamic Caller ID
Chose what CLI you wish to send at any time whether its your DDI, the main office number or your mobile number.
Visual Voicemail
See who leaves voicemails and listen to them on the go with the ability to return calls from within the visual recording.
Benefit from:
Improved staff productivity
Work from anywhere
More flexible workforce
Stay connected anywhere
Improved Communication Flow
Unified Communications
Do you want to drive business growth, make your business more efficient and provide customers with superior service?
The Internet of Things is emerging and it's changing the way we communicate, the way we live and the way we work.
As digital connectivity develops it will fundamentally change the face of business,
facilitating smarter decisions, smarter products and smarter procedures. Intelligent connectivity has the potential to transform your business.
Fixed To Mobile Convergence (FMC)
Unified Communication Anywhere (UCA) brings together cloud telephony and mobile in a true Fixed to Mobile Convergence (FMC) business solution. Delivered directly via SIM based technology, it boasts a whole range of useful services.
Because we've partnered with Transatel, EE & Centile, we can also deliver mobile call recording without the requirement of an app via our SIM. All of this is designed to give you ease of use, mobility and collaboration within your business.
Mobile VoIP
UCA has partnered with industry-leading soft-phone companies to enable mobile users to make and receive free or inexpensive phone calls over IP. You can do this using Wi-Fi or 3G connection.  Our UCA platform fully supports Mobile SIP phone soft client applications such as Media 5-fone, Bria from Counterpath and Acrobits.
Any Number
When using a fixed and a GSM phone in the office, all incoming calls are routed both to the PSTN number and the mobile GSM phone. Both devices will ring simultaneously, and the call will be connected to the phone that is the first to answer.
Even if the mobile phone is out of coverage or simply switched off, and a forwarding rule has been set up, the call will be redirected to your UCA mailbox.  This allows the end-user to have all voicemail messages in the same place. An email notification, with audio file attached, will also be sent.
Mobile Extension
The mobile extension, also known as "multi terminal" feature, enables you to assign one extension to several devices. It allows end-users to be reachable from several terminals (IP or non-IP devices), such as their desk phone, softphone and gsm phone. When someone calls the end-user extension, both the main terminal and the other linked device/s will ring simultaneously.
This enables the end-user to take the call from any of the devices. Once a call is picked up from one phone, the other is still available to receive and place calls. If the end-user does not answer the call, it will be directed to the extension forwarding rules that you decide
Unique Voicemail
The unique voicemail feature allows the end user to be available on several terminals (SNR) whilst maintaining a single mailbox. This would act like any regular user (avoid the redirection to mobile/fixed voicemail systems). When activated, the call won't be transferred to the "remote terminal" if the voicemail service answers it.
Voice Call Continuity
The UCA Voice Call Continuity feature enables users to switch seamlessly, from one terminal to another while in a conversation. The user can start a conversation on an IP phone and continue the conversation via mobile, without interference.
Mobile Call Recording
All calls captured are encrypted with a 256bit encryption key that is unique per organisation. The encrypted media is sent for storage via secure, dedicated links to dual, geographically separated data centres.
These are then replicated to multiple storage devices, ensuring complete data redundancy. Encryption keys are stored in separate data centres to the recordings. Separate encryption keys are allocated for each organisation or group.
Benefit from:
Work from anywhere
Streamline costs
Use any device on any number
Seamless mobile integration
One voicemail box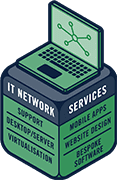 Cloud Services
Would you like the convenience of having all your systems based online? Like to have the freedom to work from any location? We can provide you with the perfect cloud-based solution for your business.
Don't be tied to the office — work from anywhere and from any device. You can have the flexibility to work in any location where there is an internet connection (even mobile internet) in the same way as you would from your office.
Back-up
Does the thought of losing your company's data bring you out in a cold sweat? Would you like to sleep easier at night knowing your important files are safe and secure?
Pure Cloud Solutions are cloud specialists and can provide you with a complete cloud-based backup solution. Cloud storage is easy to set up, cost-effective and allows you to access stored files from any location and from any device.
Office 365
There is no need to buy expensive hardware or software when it comes to Office 365. You get easy access to familiar programs like Word, Excel and PowerPoint for a fixed monthly fee and all your work will be automatically backed up on the cloud.
Historically, Microsoft applications were based on servers on site, but as technology has evolved and the world has modernised, on-premise hardware has become a thing of the past.
Now, more and more businesses are making the move to Office 365. But doing this yourself can be time-consuming, technical and you run the risk of losing vital data.
At Pure Cloud Solutions, our experts have plenty of experience in delivering Officend can manage the whole process on your behalf.
Benefit from:
Work from anywhere on any device
Reduced on site hardware
Added security
Cost effective & scalable solution
Desktop & Server Support
Working from two NOC's (Network Operation Centres) our expert engineers take control of your technology, delivering a simple solution for your IT needs. We deliver against a predetermined SLA's (Service Level Agreements) and our engineers are always vigilant, considering the urgency of support required & the impact on your business.
Benefit from:
Agreed SLA's
UK-based support team
Accredited engineers
Remote management
Customer portal
Regular on site reviews
Network Design & Build
When completing your network design build, we take time to understand your business requirements while implementing stringent compliance obligations. Our networks are built on best of breed technology via the best industry manufacturers, so your network is capable of protecting your business from an ever-evolving threat landscape.
Benefit from:
Cisco & Sophos Credibility
Proven technology
Industry leading security solutions
Consultative approach
Accredited technicians
Infrastructure & Cabling
Time and time again, people underestimate the value of quality infrastructure and cabling. These are the core elements that underpin every machine, device and endpoint you have in your business. Making sure that this is done properly, using the right type of cabling for you and your needs is key to enhancing the overall reliability and efficiency of your technology.
Pure Cloud Solutions have 30 years experience in cabling and building solid infrastructures, so your business is in good hands.
Routers & Switches
Use the right router and switches to improve your business' online aptitude, security and reliability. From routers for home workers and small businesses to integrated services routers for larger organisations, we can ensure your business' network is secure.
CAT6 / 6A & fibre cabling
Cat6/6A and Fibre are the established standards for Gigabit Ethernet. This variety is backwards compatible with Category 5 and 5e as well as Category 3 cable. Cat6 facilitates computer networks by providing high-speed data transfer rates.
Performance can be described as optimal if other components within the network are also running at gigabit speeds. We can help you to utilise this standard to get the most from your network!
Benefit from:
5 Year Warranty
Full Site Survey's
Certificate of Assurance
Fluke Tested Reports
Internet Connectivity
ADSL, FTTC, EOFTTC, EFM & Ethernet
Whether your company is looking for a complete managed solution or a simple broadband connection for a homeworker, we have the right product for your business. We provide a wide range of data services to meet the needs of organisations of all sizes.
Point To Point & Point To Multi Point Solutions
Need a bespoke wireless or fixed solution? Looking to reduce the cost of your traditional fibre-leased circuit?
Licensed microwave solutions provide you with proven reliability and performance, even in the most demanding locations and have exclusive bandwidth, which is licensed solely for your use.
Working with you, one of our in-house technical specialists will design the best result for your business, ensuring the most suitable technology is used.
Benefit from:
Quality of Service
Choice of Tier 1 Carriers
Best Pricing Available
Bespoke SLA's
Wi-Fi
Get faster connections and greater coverage for your business with the next generation, cloud-managed Wi-Fi access points. Increase your online capacity and reduce your operational expenditure. Using a cloud-managed solution gives administrators the ability to manage, monitor and grow their network through an intuitive, single plane of glass, cloud managed dashboard.
Benefit from:
Product Quality Assurance
Greater Independence
Reduced Support & Operational Costs
Increased Capacity
Faster Connection
Better Coverage
Better Network and Client Visibility
Virtualisation
Virtualisation creates a virtual working environment rather than a physical one and includes cloud versions of hardware, operating systems, storage devices and more. This allows organisations to make the most of their technology, enabling them to maximise operations on hardware by creating multiple, virtual versions.
These virtual versions can then act independently and run different operating systems or applications by sharing the resources of a single host machine. What's more, this offers a whole host of benefits including scalability, cost-efficiency, less energy consumption and more control over IT operations all via one platform.
Remote Virtual Desktop
This allows users to operate their desktop on a single, central server and removes the reliance on the actual computer, meaning you can access your desktop anywhere, at any time.
Benefit from:
Centralised Access from Any Device
Improved Security
Standardised Technology
Predictive Costs
More Control
Network Virtualisation
Designed to split network bandwidth into independent channels to then be assigned to specific servers or devices, with network virtualisation, you can access your server network from any device and from any location.  Create a unique environment with centralised security and forge virtual appliances with granular control.
Benefit from:
Ease of deployment & management
Centralised security
Access from any device anywhere
More control
Software / Operating System Virtualisation
Allows centralised control of Linux and Windows OS systems. This is done by tailoring a standard operating system so that it can run different applications by different users on a single computer at any one time. These systems do not interfere with each other even though they are on the same computer.
Benefit from:
Ease of deployment & management
Reduced hardware
Reduced time on software updates
Storage Virtualisation
Centralise the storage of disparate physical devices in a centralised environment with the use of software that identifies the storage capacity on devices and makes use of these in a virtual environment.
Benefit from:
Ease of deployment & management
Reduced hardware
Reduced time on software updates
Access from any device anywhere
Cyber Security
We help organisations across the UK and beyond to protect themselves from the 3.6 billion cyber attacks that happen every day by using the latest technology from industry leading manufacturers.
CISCO Umbrella
Cisco Umbrella is a Secure Internet Gateway that provides the first line of defence against threats on the internet, wherever users go. It actively scans for potential threats & blocks them before they ever reach your network.
It also has traffic visibility across all devices and overall ports, even when users are off your corporate network. Plus, the system learns from internet activity to identify potential new attacks & threats.
Try it for yourself … Here's a completely FREE 14 day trial of Cisco Umbrella. Trial the features & experience the benefits of the world's best defence against cyber threats with no obligation to purchase!
Threat Management
We can help businesses to understand the threats associated with cyber security and how they can best manage not only their technology to protect themselves but their staff too. After all, they are your human firewall.
New cyber threats develop daily and making sure your staff are kept up-to-date with regular training and workshops that help them to detect the characteristics of these types of threats, is key to your security.
MDM (Mobile Device Management)
MDM provides unified management of mobile devices including, Apple MAC's, Laptops/PC's and the entire network from one centralised dashboard. It enables you to manage and enforce group security policies, remotely procure and deploy apps and software, plus the ability to remotely carry out live troubleshooting across any amount of devices connected to your network.
It helps businesses of all sizes spend less time and effort managing and securing traditional mobile endpoints so users can be productive on the devices they prefer.
Plus, it's scalable configuration of endpoints, helps to define and deploy network settings to all devices on your network and it allows you to restrict access and enforce user policies to monitor usage and protect your devices and their data.
Benefit from:
Industry leading manufacturers
Proven Technology
Pro-active Threat Detection
Increased Visibility
Scalability
Secure Devices
Central Management
Physical Security
In the age of cyber threats, it's easy to forget about physical or environmental security. But this is just as important as its logical cyber-security counterpart.
Modern companies should rely on logical cyber & physical security in tandem to protect the physical assets of their organisation. After all, online security measures are all worthless if a criminal can walk into your building & steal a drive, hardware or data.
IP CCTV by Meraki MV
Impossibly simple to deploy, configure and manage the Meraki MV range of cameras provides reliable security and valuable business insights to organisations of any scale.
Features:
Centralised Cloud Management
Up to 256GB Storage
Motion Search
Video Encryption
Advanced Analytics
Granular Access Controls
Free Firmware Updates
Optimised Retention
IP CCTV by Hikvision
With cameras designed to meet various security needs, Hikvision's range offers a great image with minimal requirements on storage & bandwidth.
Features:
Day/Night Auto-Switch
Intrusion Detection
Tampering Alarm
128GB Storage
Paxton Bio-metrics & Access Control
Paxton design and manufacture market-leading IP access control. Their product harnesses the power of the latest technology to provide a powerful, yet easy to install and use solution. They have a variety of ranges that PCS utilise to help keep our customers secure perfect for both small and large businesses.
Benefit from:
Central Platforms
Easy Installations
Latest Technology
Bespoke Solutions
Huge Range
Quality Products
Anti-Virus
PCS use Sophos Intercept X as our chosen anti-virus protection solution. Built to stop the widest range of attacks, Intercept X combines multiple techniques including signature-less exploit prevention, deep learning malware detection, anti-ransomware capabilities & much more, to protect you & your network.
It detects new & unknown malware using deep learning before it ever runs on your endpoints and prevents ransomware using CryptoGuard technology. When any malicious encryption is attempted, CryptoGuard stops it in its tracks.
It also denies hackers by blocking over 25 exploit techniques attackers rely on to spread malware, steal credentials & escape detection.
Benefit from:
Industry leading technology
Malware protection
Anti-Ransomware
Sophisticated detection
Live reports
Fraud Prevention
We take fraud prevention very seriously. We work closely with our upstream carriers and have an array of fraud prevention mechanisms built into our core systems. These mechanisms protect your services by encrypting data, providing protection against malicious source and destination IP addresses using our ITSPA (Internet Telephony Services Providers' Association) integration and provisioning attempts from malicious, unknown sources.
Benefit from:
Two-Factor Authentication for System Admins
Call Barring and Device Blacklisting
ITSPA Integration for Protection Against Malicious Source & Destination IP addresses
Encryption
Malicious Activity Detection and Proactive Security Mechanism
Recognised Industry Measures
Firewalls
Meraki MX
Cisco Meraki Security Appliances can be remotely deployed in minutes using zero-touch cloud provisioning. Security settings are simple to synchronize across thousands of sites using templates. Auto VPN technology securely connects branches in 3 clicks, through an intuitive, web-based dashboard.
Comprehansive Security in a Single Box
Every Meraki Security Appliance supports several features, like a stateful firewall and integrated Sourcefire intrusion prevention (IPS) engine, to keep networks secure. Threat definitions and filter lists are seamlessly updated, ensuring every site has bleeding-edge protection from the latest vulnerabilities and troublesome websites.
Benefit from:
Next Generation Firewall
Intrusion Prevention
Cloud Brokered VPN
Content Filtering
Malware Protection
High Availability
Built-in SD-WAN
Software-defined WAN capabilities in every security appliance reduce operational costs and improve resource usage for multi-site deployments, allowing network administrators to use available bandwidth more efficiently and ensure the highest possible level of performance for critical applications without sacrificing security or data privacy.
ASA Firewall
Cisco ASA firewalls offer deep network visibility into potentially malicious file activity across users, hosts, networks and infrastructure and advanced threat protection to find and stop the most advanced threats.
It also has multi-layer protection with the highest security scores in third-party testing for both NGIPS & AMP as well as auto-analysis of threats via Cisco Talos to constantly analyse threat data and prevent security breaches.
XG Firewall
Sophos XG Firewall is next-generation firewall protection that's easy to set up and manage. It blocks unknown threats and automatically responds to security incidents by isolating compromised systems and exposing hidden user, application and threat risks on your network.
With visibility into risky activity, suspicious traffic and advanced threats XG Firewall helps you regain control of your network, using the latest advanced technology to protect your network from ransomware and advanced threats.
Plus, its automatic incident response identifies the network infection source and automatically limits access to other network resources in response.
Benefit from:
Advanced Threat Protection
Automatic Responses
Robust Layered Security
Reports & Analysis
More Control
Better Network Insight
Easy to Use Portals
Industry leading Vendors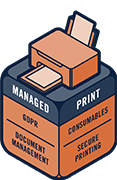 Document Management
Document Management Systems (DMS) is a software-based solution that is used to reduce the amount of paper and time spent on manual processes within your business by automating workflows and allowing users to track, manage and store documents digitally.
Secure Printing
From fobs and biometrics scanners to simple things like passwords and pins, PCS can help you remain secure so that your print doesn't get into the wrong hands and cause a security breach or worse.
GDPR
Our managed print audit will highlight endpoint print security improvements in your infrastructure. From this PCS can help you implement strategies to achieving regulatory GDPR compliance.
Fleet Optimisation
Fleet Optimisation allows us to complete a Walk in Take Over (WiTO) of an existing fleet of printers and install a remote monitoring software onto your network that monitors and reports on all printing devices.
Using this information, PCS can then advise where the best locations for your printers would be making sure that one printer isn't being over utilised more than another. Our aim for the end-result is reducing your fleet and in turn your costs.
Benefit From:
Cost-Savings
Save Time
Increased Efficiency
Improved Security
Sustainability
Real-time Reports
Inclusive Support
Pay-Per-Click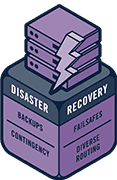 Data Backups
Datto
Datto back-up, you get the three most important things: Backup, Restore and Continuity on a single platform with on-site hardware for peace of mind. It's easy to use and helps to keep your date protected when the worst happens.
Iomart
BaaS from Iomart is not simply backup in the cloud. It is a fully managed backup solution that supports you both on-premise and, in the cloud, across multiple locations, and protects your data whether it's in production, dev/test or archived.
Benefit from:
Easy platforms
Flexibility
Industry Leading Vendors
Managed Process
Multi-Site Protection
On-Site & In-Cloud
Contingency
Contingency plans are vital in the event of an unforeseen technical glitch. Having something in place that protects resources, minimises customer inconvenience and helps you to maintain operation is a must for your business.
Fail-Overs
Used as a warm spare, this protects you in the event of a main router fail. The router will automatically kick in & prevent downtime so you can keep operating without interruption.
GSM Phones
If your connection goes down, you will still be able to make & receive calls via sim cards that enable them to run like fully-integrated mobiles.
4G Back-Up
In the event your network goes down, 4G back-up can provide a truly diverse entry as a secondary, cellular connection.
Benefit from:
Instant Fail-over
Downtime Prevention
Resource Protection
Convenience
Uninterrupted Power Supply
An Uninterruptible Power Supply (UPS) is used to protect critical equipment from mains supply problems, including spikes, voltage dips, fluctuations and complete power failures using a dedicated battery. A UPS system can also be used to 'bridge the gap' allowing you time to correctly shut down valuable IT equipment and prevent data corruption.
PCS will check the load and the expected run time and recommend the best UPS fit for purpose. All too often at the critical time in the event of a power failure its discovered that the UPS is not up to the job. Let us help you make sure it is.
Benefit from:
Downtime Prevention
Resource Protection
Convenience
Peace of Mind
Security of Data
Resilient Connections
PCS offers resilient internet connectivity whereby connectivity is supplied from two separate providers to avoid the possibility of downtime in the event of local change failure and to protect your data from being lost.
We also offer resilient diverse routed connectivity which protects against cable failure but also against local exchange failure as there are two separate routes from two exchanges to your site.
Benefit from:
Resilience
Added protection
Better performance
Bespoke solution
Would you like more info?
If you would like to contact us to find out more information about any of the services Pure Cloud Solutions can offer your business please click the link below.
Pure Cloud Solutions can help you devise a disaster plan that is right for your business.
Call us today, on 0333 150 6780 or email us at