Reviewing your current business strategy to ensure you're getting the most out of your services & technology is an essential step, especially during these uncertain times. With more businesses currently adopting remote working as a permanent solution, VDI is an advantageous technology to utilise to help assist your co-workers whilst away from the office.
VDI is not a new technology but it's been more accentuated in recent months with the surge of remote working. This has seen many businesses enjoying the undeniable benefits this solution can offer and has had some scratching their heads as to why they haven't utilised it sooner?
If you think VDI could add value to your organisation, then read on to discover the technology in more detail and the benefits it can offer your business!
 WHAT IS A VIRTUAL DESKTOP INFRASTRUCTURE?
A virtual desktop infrastructure is when a device is able to manage and host an array of virtual desktops from a central server that is then utilised by the end user. VDI divides the machine into several virtual desktops that can be accessed remotely by the operator over a network. VDI technology is a perfect solution for remote working as it eliminates the necessity to buy pricy equipment and gives employees the accessibility to their desktop infrastructure at any time, from any place!
There are two different variations of VDI that both offer businesses different benefits.
Persistent VDI: An employee can access the same virtual desktop every time they log into their infrastructure, with the saved modifications they applied from the previous use. Essentially, a persistent VDI acts as a personal desktop.
Non-Persistent VDI: In contrast to a persistent VDI, this version is more generic and is reset after every use, meaning no alterations are saved on the desktop. A non-Persistent VDI is usually a cheaper infrastructure as it doesn't need the capacity to save an array of different desktops.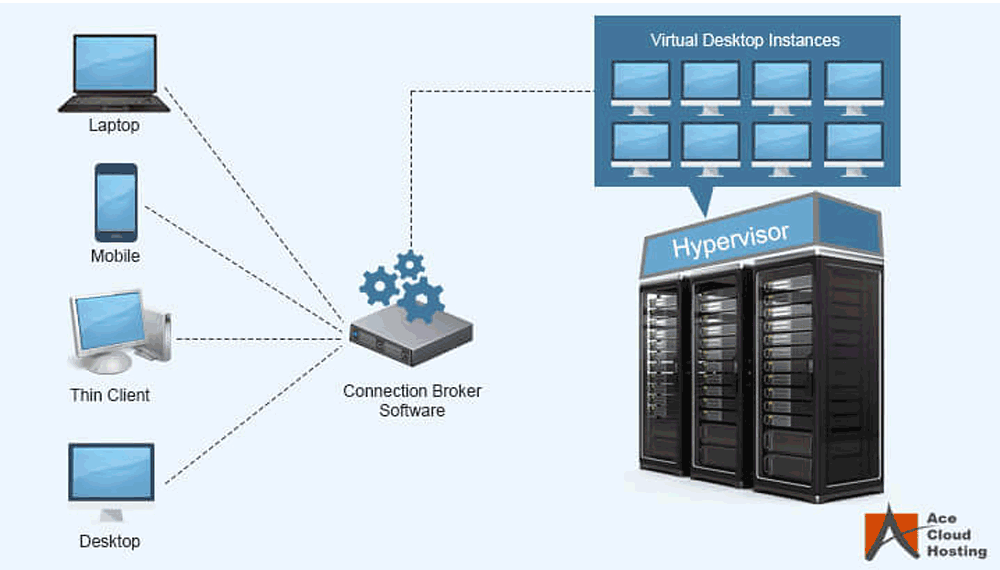 THE BENEFITS OF VIRTUAL DESKTOP INFRASTRUCTURE
COST SAVINGS
As all VDI services are operated over the cloud everything runs more cost efficiently, not to mention much more safely. There is no need for expensive hardware as less IT resources are required. And as a long-term investment, VDI endpoints can ultimately be less costly due to energy and electrical savings.
REMOTE ACCESS
Your employee's data can be accessed anywhere and whenever it's required. Unlike traditional setups, with VDI your desktop is not connected to a system or network so can be accessed via the internet with ease. So, there is no need to worry if you decide to implement a blended working culture going forward.
SAME USER ACCESSBILITY
Users can see their personal desktop just as they normally would on any device, which is really handy for businesses that value mobility and the benefits it brings. Your desktop isn't bound to hardware so you can use mobiles, laptops, and tablets to view your desktop image.
ADVANCED SECURITY
Data centres store all data from a VDI solution remotely and securely. This means in the event that data is lost or stolen, not only can access be removed from the missing device protecting your data, it can also be accessed  and retrieved on a replacement device by using the users login details immediately.
INCREASED PRODUCTIVITY
Implementing a VDI solution will most definitely increase your business productivity. Users can access their virtual desktop from any device from any location at any time, meaning employees aren't tied down to the office and can work whenever and wherever they choose, giving them flexibility and reducing the risk of disruption to your business operations.
EFFECTIVE SOLUTIONS FOR YOUR BUSINESS
Being proactive and discovering solutions that could benefit your organisation & employees is a great sign of advancing your business to becoming more efficient and successful. It's important to only implement solutions & services that you see fit for your business and that you think will have a positive impact on operations. With the permanent switch to remote working, businesses are encouraged to think about the next steps to ensure success is not affected.
GET IN TOUCH FOR MORE ADVICE!