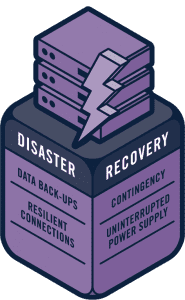 Datto
When infrastructure fails, business operation stops and revenue takes a hit. The result can be costly and have serious implications, so every second counts. Ensure your business is always on and prevent data loss in the event of a disaster by implementing a business continuity and disaster recovery solution that works.
Datto offers businesses an all-in-one solution that includes verified backups and restore options for any scenario, instant virtualisation and ransomware protection. Plus, you can reduce downtime and get back up and running immediately from the Datto Cloud.
With Datto business continuity, you get the three most important things for your data: Backup, Restore and Continuity on a single platform with on-site hardware for peace of mind. It's easy to use and helps to keep your data protected if the worst happens.
BENEFITS:
Ransomware detection & recovery
Advanced back-up verification
Rapid roll-back
Minimal downtime
Easy platforms
Flexibility & scalability
Multi-Site Protection
On-Site & Cloud storage
Managed set-up
Minimal configuration
Need more information on what Pure Cloud Solutions can offer?
Move away from a rigid telephony solution, contact one of our experts to understand how a mobile first approach can help your business.