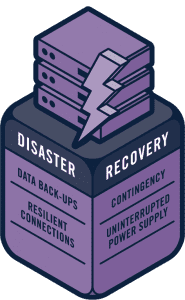 Resilient Connections
Resilient internet connections are a must if your business relies on internet access to operate. The good news is there are options available to meet all budgets. Whether you utilise a 4/5G data SIM or go the whole hog and have a fully diverse Ethernet connections we have you covered.
Features & Benefits:
Resilience
Added protection
Better performance
Quicker recovery
Minimise downtime
Need more information on what Pure Cloud Solutions can offer?
Pure Cloud Solutions can work with you to create a bespoke solution that ensures your business can continue to operate and protect its data, even if there is an unexpected outage. Get in touch to discuss your options today.