Uninterrupted Power Supply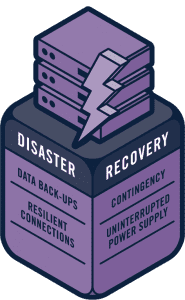 Uninterrupted Power Supply
An Uninterruptible Power Supply (UPS) is used to protect critical equipment from mains supply problems, including spikes, voltage dips, fluctuations and complete power failures using a dedicated battery.
A UPS system can also be used to 'bridge the gap' allowing you time to correctly shut down valuable IT equipment and prevent data corruption. PCS will check the load and the expected run time and recommend the best UPS fit for purpose. All too often at the critical time in the event of a power failure its discovered that the UPS is not up to the job. Let us help you to make sure it is.
Features & Benefits:
Downtime Prevention
Resource Protection
Convenience
Peace of Mind
Security of Data
Need more information on what Pure Cloud Solutions can offer?
Datto can protect your business from a full disaster scenario in minutes and no additional work is required to perform a rescue when it matters most. Speak to a Pure Cloud expert who can help tailor a business continuity solution that compliments the way you operate.