The Power of Cisco Umbrella
One way to add cyber security to your network & ensure protection of your users & endpoints is to deploy Cisco Umbrella technology. Cisco Umbrella provides the first line of defence against threats on the internet wherever users go. It delivers complete visibility into internet activity across all locations, devices & users. It then blocks threats before they ever reach your network or endpoints.
As a cloud-delivered, open platform, Umbrella integrates easily with your existing security stack & delivers live threat intelligence about current & emerging threats. It does this by analysing & learning from internet activity patterns. From this, it proactively blocks requests to malicious destinations before a connection is even established — without adding any latency for users. With Umbrella, you can stop phishing & malware infections earlier, identify already infected devices faster & prevent data ex-filtration.
Trial Umbrella for free
Don't just take our word for it, try Umbrella for yourself for FREE for 14 days & benefit from cutting edge security at the tap of a button. No commitment, no card details required, just tap in your business details & you're away!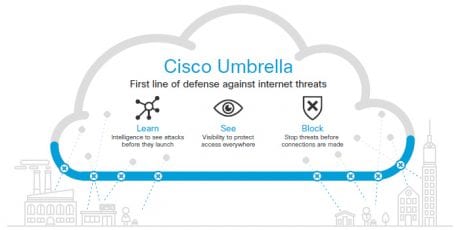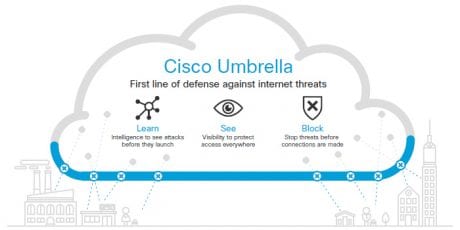 Plays Nice With Others
Cisco Umbrella is so easy to deploy, mainly because it integrates with your existing security stack. This includes security appliances, intelligence platforms & cloud access security controls. Umbrella can even push log data about internet activity so you can program malicious domains to Umbrella for blocking.
It's one of the quickest security features you can apply to your network. Because it is delivered from the cloud, there is no hardware to install or software to manually update. So you can protect all of your users in minutes. You can even provision all on-network devices — including Bring Your Own Devices & IoT — in minutes.
Benefit from flexible cloud-delivered security when & how you need it. Umbrella combines multiple security functions into one solution, so you can enrich your incident response data. Cisco Umbrella is the answer to your cloud security challenges.
DNS -layer security
Have improved security visibility. Umbrella can detect compromised systems and protect any users on or off the network by stopping threats reaching your network or endpoints.
Interactive threat intelligence
Umbrella can provide real-time context on malware, phishing, botnets, trojans and other threats enabling faster incident investigation and response.
IMPRESSIVE firewall
Have visibility and control for internet traffic across all your offices. All activity is logged, and any unwanted traffic is blocked using IP, port and protocol rules.
Cloud APP BLOCKING
Cisco Umbrella's App Discovery & blocking provides cloud app visibility with vendor, app & risk details to enable secure cloud enablement plus the blocking of apps that are not approved.
Secure web gateway
Improve performance and reduce risk by efficiently logging, inspecting and controlling web traffic. All traffic is forwarded to cloud-based servers that enforce acceptable use policies and blocks advanced threats.
our experts can help you
Like what you've read? We are widely considered as industry leaders when it comes to the cloud. We can help you work out what will suit your business security and network needs. Get in touch today!