In the past, desktops, business apps & critical infrastructure were all located behind the trusty firewall. Today, there's much more happening off-network. There are more roaming users, more corporate-owned laptops accessing the internet from other networks & more cloud apps. Businesses are letting users get work done from wherever they choose & more branch offices connecting directly to the internet. This is where Cisco Umbrella thrives.
By 2021, Gartner predicts the average company will have 25% of its corporate data traffic bypassing the network perimeter. But when a user is off-net, they are more vulnerable & the organisation lacks visibility & protection. If you rely on perimeter security alone, you're not fully protected & the gaps in your security open the door for malware, ransomware & other attacks.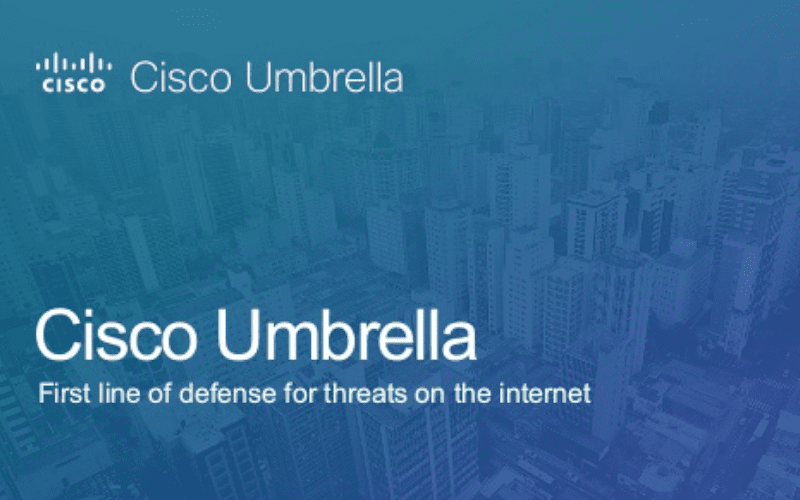 The Power of Cisco Umbrella
One way to plug the gaps & ensure protection of your users & endpoints is to deploy Cisco Umbrella technology.
Cisco Umbrella provides the first line of defense against threats on the internet wherever users go. It delivers complete visibility into internet activity across all locations, devices & users. It then blocks threats before they ever reach your network or endpoints. As a cloud-delivered, open platform, Umbrella integrates easily with your existing security stack & delivers live threat intelligence about current & emerging threats. It does this by analysing & learning from internet activity patterns. From this, it proactively blocks requests to malicious destinations before a connection is even established — without adding any latency for users.
With Umbrella, you can stop phishing & malware infections earlier, identify already infected devices faster & prevent data ex-filtration.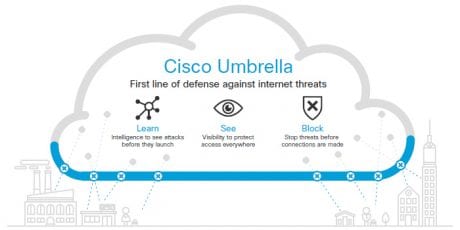 Plays Nice With Others
Cisco Umbrella is so easy to deploy, mainly because integrates with your existing security stack. This includes security appliances, intelligence platforms & cloud access security controls. Umbrella can even push log data about internet activity so you can program malicious domains to Umbrella for blocking.
It's also one of the quickest security features you can apply to your network. Because it is delivered from the cloud, there is no hardware to install or software to manually update. So you can protect all of your users in minutes. You can even provision all on-network devices — including Bring Your Own Devices & IoT — in minutes.
Mitigate costs & breach damage
Because Cisco Umbrella is the first line of defense, security teams will have fewer malware infections to remedy & threats will be stopped before they cause damage.
Increase visibility across all locations & users
Cisco Umbrella provides crucial visibility for incident response & also gives you confidence that you're seeing everything, all from one central dashboard.
Uncover shadow IT & block risky apps
Cisco Umbrella's App Discovery & blocking provides cloud app visibility with vendor, app & risk details to enable secure cloud enablement plus the blocking of apps that are not approved.
Reduce detection Times & contain threats
Cisco Umbrella contains command & control callbacks over any port or protocol & it provides real- time reports on that activity.
Trial Umbrella for FREE
Don't just take our word for it, try Umbrella for yourself for FREE for 14 days with no obligation & benefit from cutting edge security at the tap of a button. No commitment, no card details required, just tap in some business details & you're away!