Why our Disaster Recovery process is so Important. From IT Engineer George Ward
Disaster recovery is one of those services that you hope you'll never need. But trust me when I say you'll be glad that you have it when you do. Disaster recovery means that when incidents occur with your IT, your business will have a plan in place that can help you get back online without disruption.
When I speak to our customers about whether they need a disaster recovery plan, the first thing I ask is "How much downtime is acceptable for your business?" The answer, not to anyone's surprise I'm sure, is usually "The bare minimum!" At Pure Cloud we're capable of making this happen for businesses, but it requires the right tools and expertise. To make this point clear, I've put together a list of the services that we use on a regular basis and how they can support you.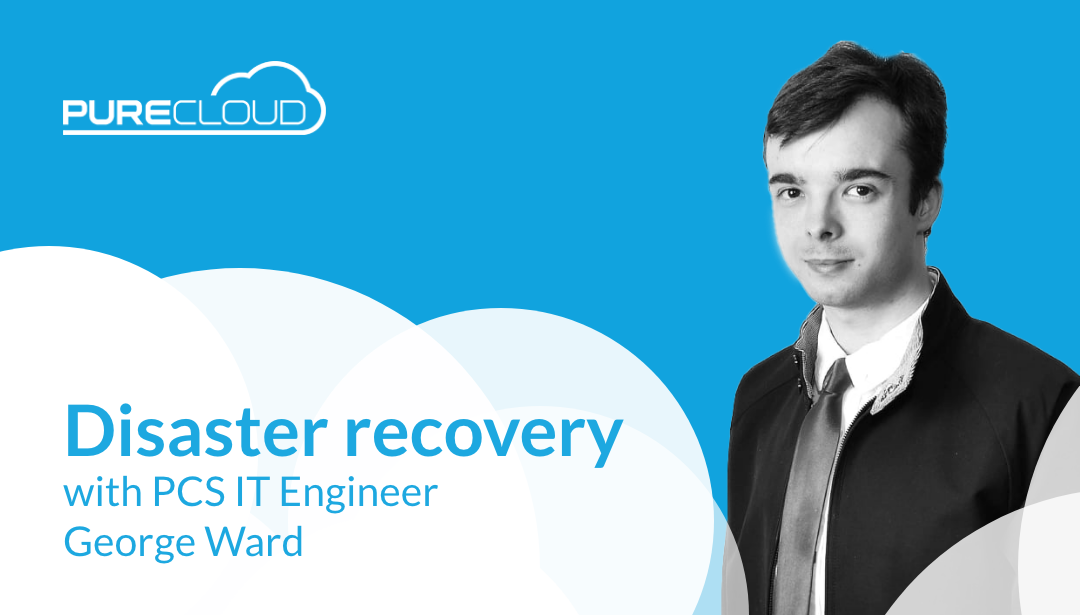 Business continuity solutions are your best friend
The best disaster recovery plans are built around backups. You need to make sure that every online service your business relies on has a failover should something go wrong. I've spoken to plenty of businesses who don't even realise that many popular services don't back up on their own!
At Pure Cloud we've partnered with backup provider Datto to support our clients. We use Datto ourselves, it's definitely a service we trust. Datto offers a suite of different services that we deploy depending on a client's needs.
We implement a service that backs up your servers every hour. This means that even if your whole building loses power after that, we will restore all your data within half an hour! With just consumer-grade cloud backups in place, it could take anywhere from two days to potentially over six weeks!
A question I'm often asked is how we know when we need to deploy a backup. We know thanks to a service called NinjaOne. It's remote management software that lets us keep our client's IT in great condition. When an outage occurs NinjaOne alerts us, and we get to work restoring the backup. Often, we'll resolve an issue before the customer even notices it!
How remote backups have helped PureCloud customers
It's great to have a tried-and-tested process in place that I can show to customers and know it actually works. Here's an example of how we recently helped a local customer in the care sector.
They had a server hosted on their site, 2 virtual machines, and enough devices to support their team of about 15. Unfortunately, their internal hardware failed, and the server went down. Thankfully for them, our remote check-up meant we caught the issue early.
We loaded up Datto and restored their domain controller remotely. Within an hour the whole team were back online and able to carry on as usual. While we carried out fixes to their main infrastructure, the team worked from their Datto backup for more than two weeks. They didn't notice the difference! This goes to show how a bit of support can ensure business continuity.
In an industry like the care sector, it's pretty difficult to overstate how bad extended downtime can be. I'm glad we were able to be there for this customer and many others like them when they needed us.
Are you backing up your cloud services?
I mentioned earlier that there are some backups that your business might not have, but should definitely start looking into.
Did you know that your emails, Microsoft 365 documents and other cloud services like Google Workplace aren't backed up as standard? In Microsoft SharePoint or Google Drive, most files are only stored for 90 days. When you store files in these services they're always at risk of data loss, or worse, malware attacks.
At Pure Cloud we provide our customers with a service that can help. It's called SaaS (software as a service) Protection. It gives teams some real peace of mind that their Microsoft 365 and Google Workplace data is safe from the threat of data loss, user error, phishing attempts or malware.
What about cybersecurity?
Backups are a huge part of any great disaster recovery, but they're not the only part of the process you need to watch out for. Cybersecurity threats are always on the rise, we've been seeing a lot more attacks recently, especially in the SME space. In the past year, cyberattacks affected 42% of small businesses.
We've heard plenty of horror stories from businesses who turn to us after they've experienced ransomware or phishing attacks. If there's one thing to take away from this it's that it's worth getting a really good plan in place now, rather than after you've already suffered an attack.
The best thing about this job is hearing the great feedback from clients who could have faced major downtime, but didn't, thanks to the tools and processes we put in place here at Pure Cloud. We don't just put plasters over the big issues, it's all about ongoing, long-term improvements.
It's great to work for a business like Pure Cloud, where service matters so much. We've all got the same goal: to do what's best for the customer. I'd recommend a robust disaster recovery plan to any business, but you need to make sure it's suited to your needs and budget. That's what we're all about here at Pure Cloud. Get in touch if you want to find out more!